Please read through the information provided and continue to the consent form at the bottom of the page.
We would like to invite you to take part in The BRIDGE Project.  This is a research study about support for young people with symptoms of Borderline Personality Disorder (BPD).  
The project is inviting sixty young people aged between 14 and 24 who are experiencing symptoms of BPD to take part in this research. Before you decide if you would like to take part, it is important for you to understand why the research is being done and what it will involve.  Please take time to read the following information carefully.  Talk to others about the study if you wish.  Ask us if there is anything that is not clear or if you would like more information.  Please note, we will not be giving a diagnosis of BPD during your participation in the study.
What is the research about?
The project is looking to find the best option for supporting young people with BPD symptoms. We are particularly interested in exploring the effectiveness of the BRIDGE intervention which includes, initial assessments of your needs, up to 16 sessions of Cognitive Analytic Therapy and working with any team around you, as compared with the normal service which would be received by someone with symptoms of BPD, this is known as 'Service as Usual'.
Why have I been asked to take part?
You have been asked to take part because you are aged between 16-24 years and are experiencing symptoms of BPD.
Do I have to take part?
No, you do not have to take part in the research, and it will not affect any medical service or treatment that you are receiving. You are free to withdraw from the study at any time. You can also refuse to answer any questions that you do not feel comfortable with.

What will I be asked to do?
You will be asked to sign a consent form and undertake a 15-item questionnaire related to BPD on the website. This will involve answering some questions about 1) your BPD symptoms, 2) difficulties you are currently experiencing, 3) how you are presently functioning. Depending on your responses to this questionnaire, you meet the criteria for the second stage of the screening process.
At the second stage of the screening process, all potentially eligible participants will be invited for a short (less than 30 minutes) interview by a clinician.
If you are found to be suitable to take part in the study, you will be offered the BRIDGE intervention which involves brief assessments, up to 16 sessions of Cognitive Analytic Therapy and you will continue to work with any team around you or continue with 'Service as Usual' alone. This is randomly assigned, much like the throwing of a dice. You will then have follow-up assessments at 12 and 24 weeks after the Cognitive Analytic Therapy or continued interventions have ended.
What is Cognitive Analytic Therapy?
Cognitive Analytic Therapy (CAT) is a time-limited psychological therapy first developed in the UK by Anthony Ryle. The goal of CAT is to help you explore the ways you think, feel and act and reflect upon the impact of early life experiences on your relationships and present behaviours. It works as a combination of various therapies and is tailored to an individual's needs and goals.
What is Service as Usual?
Service as usual means that you will continue to receive the care and support from anyone you may be seeing (for example, counsellor, support worker, GP) at the time of participation.
Who will know I am taking part in the study?
Only certain members of the research team will have access to your information order, for example, to phone you or visit you to complete questionnaires. We would like to tell your GP you are taking part, but only with your permission. It is a requirement that your records in this study are made available if requested by monitors from the Sponsor. The Regulatory Authorities, whose roles it is to check this research is properly conducted and the interests of those taking part in this study are protected, may also need to look at your records.

Will my information be protected?
Yes. We will follow ethical and legal practice and all information about you will be handled in confidence. All information which is collected about you during the research, including identifiable data, will be kept strictly confidential and will be held securely for 10 years after the study has ended in accordance with the latest Data Protection legislation.
The NHS Greater Glasgow & Clyde is the sponsor, and NHS Greater Glasgow & Clyde and University of Glasgow are the joint data controllers for this study and are responsible for looking after your information and using it properly. You can find more about this at GG&C website for Data Protection:
https://www.nhsggc.org.uk/media/259281/nhsggc_gdpr_data_protection_notice-v4.pdf
The local research team, including researchers from the University of Glasgow, will have access to your information. They will use your name and contact details to contact you about the study, to make sure that relevant information about the study is recorded, and to oversee the quality of the study.
Your rights to access, change or move your information are limited, as we need to manage your information in specific ways in order for the research to be reliable and accurate.
Other researchers may wish to access data from this study in the future. However, it will not be possible to identify participants from this data because it will not include names, addresses or dates of birth. The sponsor will ensure that other researchers comply with legal, data protection and ethical guidelines and have ethics approval for their research.
What are the benefits of taking part?
The main benefit of your participation in the study is to help us understand how effective certain types of treatment are in terms of dealing with difficulties with your thoughts and feelings, and other life factors that may contribute to your mental wellbeing. You will also know that you will be helping to find better ways for other young people to get the best kind of help in the future. If you decide not to take part, you will still receive the support you would normally receive from the NHS.
Is there a downside to taking part?
We do not expect that taking part will cause you any problems.
If you do become distressed, we will stop the session immediately. As a participant we want to ensure that the research project does not negatively impact on your well-being and therefore if there is any concern the research team will ask for your consent to discuss these concerns with your direct care team. We would also encourage you to discuss any thoughts and feelings arising during the study with your care team.
If you share information that makes the research team concerned for your safety or the safety of other people, we may be required to tell others involved in your care (e.g. your keyworker or Psychiatrist). If we identify that you may benefit from any additional support relating to symptoms other than those explored during the BRIDGE intervention, we will feed this back to your general practitioner or team involved with you (for example CAMHS). We will always notify you beforehand if we are going to do this and explain why.
If at any point during the research process there is a question about your capacity to continue with the research, we would terminate the assessment/session immediately and consult with your direct care team. We will of course discuss this with you fully before talking with anyone. If this occasion were to arise and your capacity is restored, we would require confirmation with your direct care team before continuing with any assessment.
What will happen at the end of the study?
During your time in the study, if randomised to the BRIDGE intervention, your care will be provided by psychologists working within the NHS. At the end of the study, your care will be transferred to your GP or team around you, as your needs require.
What will happen to the results of the study?
The results will be published in a health science journal and the research team will make sure that the general public know about our results. Your name will not be used in any report.
Can I speak to someone who is not involved in the study?
Yes, for independent advice about this study please contact:
Dr Breda Cullen
School of Health and Wellbeing
Clarice Pears Building
University of Glasgow
90 Byres Road
Glasgow, G12 8TB
Tel: 0141 211 3912
Email: breda.cullen@glasgow.ac.uk
Who is organising the funding and research?
The University of Glasgow is the organiser of the research as well as the Chief Investigator Dr Ruchika Gajwani (contact details are provided at the end of this information sheet).
MQ Mental Health Research is providing the funding for this research.
What if I have further questions about the study?
If you would like to talk about the study further or have any questions about your participation, please contact Dr Ruchika Gajwani (Chief investigator). Contact details are listed at the end of this information sheet.
What if something goes wrong?
If you have a concern about any aspect of this study, you should ask to speak with the researcher who will do their best to answer your questions.
If you remain unhappy and wish to complain formally you can do this through the normal NHS complaints procedure by contacting the Complaints Department by email at: complaints@ggc.scot.nhs.uk, by phone on 0141 210 4500, or in writing:
Complaints Department
North East Sector Offices,
Stobhill Hospital300 Balgrayhill Road
Glasgow
G21 3UR
If taking part in this study harms you, there are no special compensation arrangements. If you are harmed due to someone's negligence, then you may have ground for legal action but you may have to pay your legal costs. Regardless of this, if you wish to complain, or have any concerns about any aspect of the way you have been approached or treated during the course of this study, the normal National Health Service complaints mechanism is available to you.
If you have private medical insurance, you may wish to check with your company before agreeing to take part in the study to ensure participation will not affect your insurance cover.
Who has reviewed the study?
The study was reviewed and approved by the NHS Research Ethics Committee.
---
Thank you for taking the time to read this information sheet.
Researcher contact details: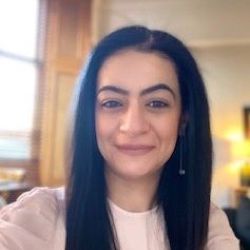 Dr Ruchika Gajwani
School of Health and Wellbeing
Clarice Pears Building
University of Glasgow
90 Byres Road

Glasgow, G12 8TB

Tel: 0141 201 9239
E-mail: Ruchika.Gajwani@glasgow.ac.uk